Mobile App Tips: Easy Access to All Your MCU Accounts
Get easier access to your MCU accounts with our mobile app
Did you know that our mobile app is a safe, secure as well as an easier way to access your money? 
Here are some tips and tricks to ensure you are getting the most out of the MCU mobile app.
Easy Login – No need to enter your username and password every time
Save time logging in by setting up an easy authentication method. If you have a smartphone, depending on your device, you can login with a PIN code, Face ID, Voice Recognition or Fingerprint ID. Once set up you won't need to put in your username and password every time you login, simply input your PIN, say a few words or just look at your phone (Face ID).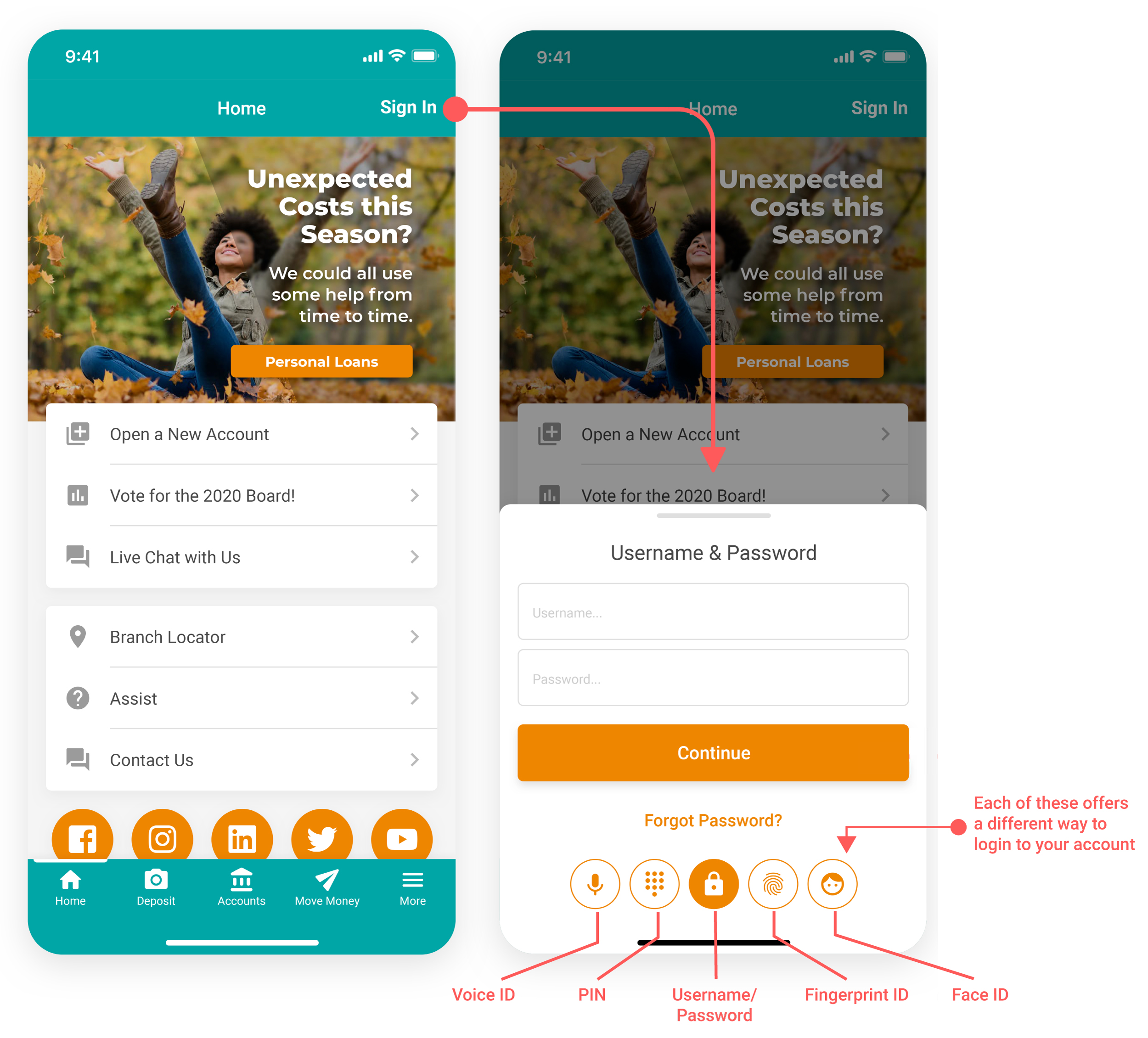 To set up a alternative authentication method, first you will need to log-in. Once logged in, go to your profile in the top right corner. Scroll down to Authentication Options. There you can set up your choice of a PIN Authentication, Voice Authentication, Fingerprint ID Authentication or Face ID Authentication.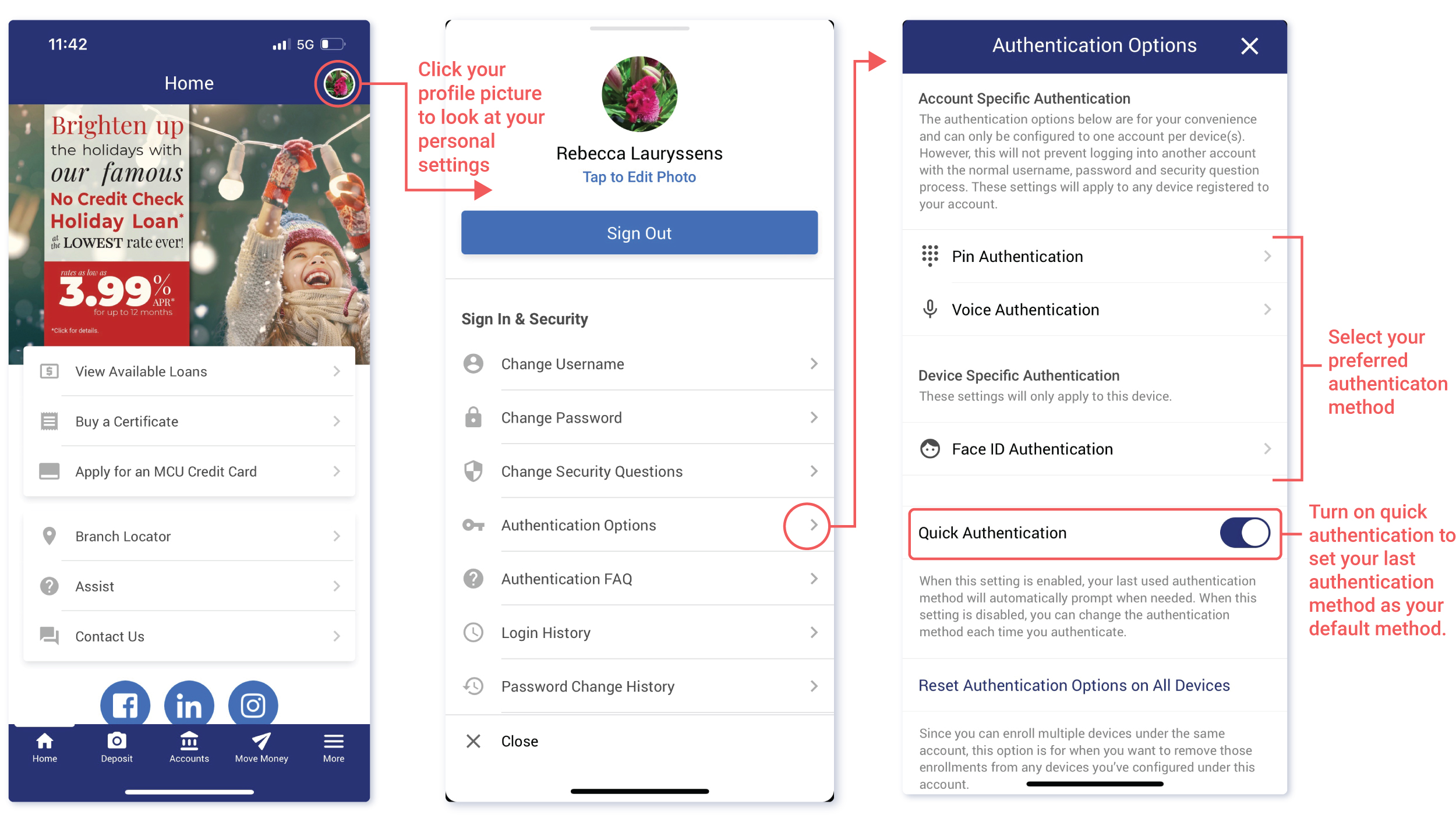 Hint: Once you have started using your new, easier authentication method, turn on Quick Authentication under Authentication Options so you are prompted each time to use your preferred log-in method. Be sure to click this button after you have already used your new log-in method so that it saves the correct log-in option.
Remote Check Deposit
Easily deposit your checks remotely, direct from the MCU mobile app.  Simply choose the Deposit button from the main menu and follow the prompts.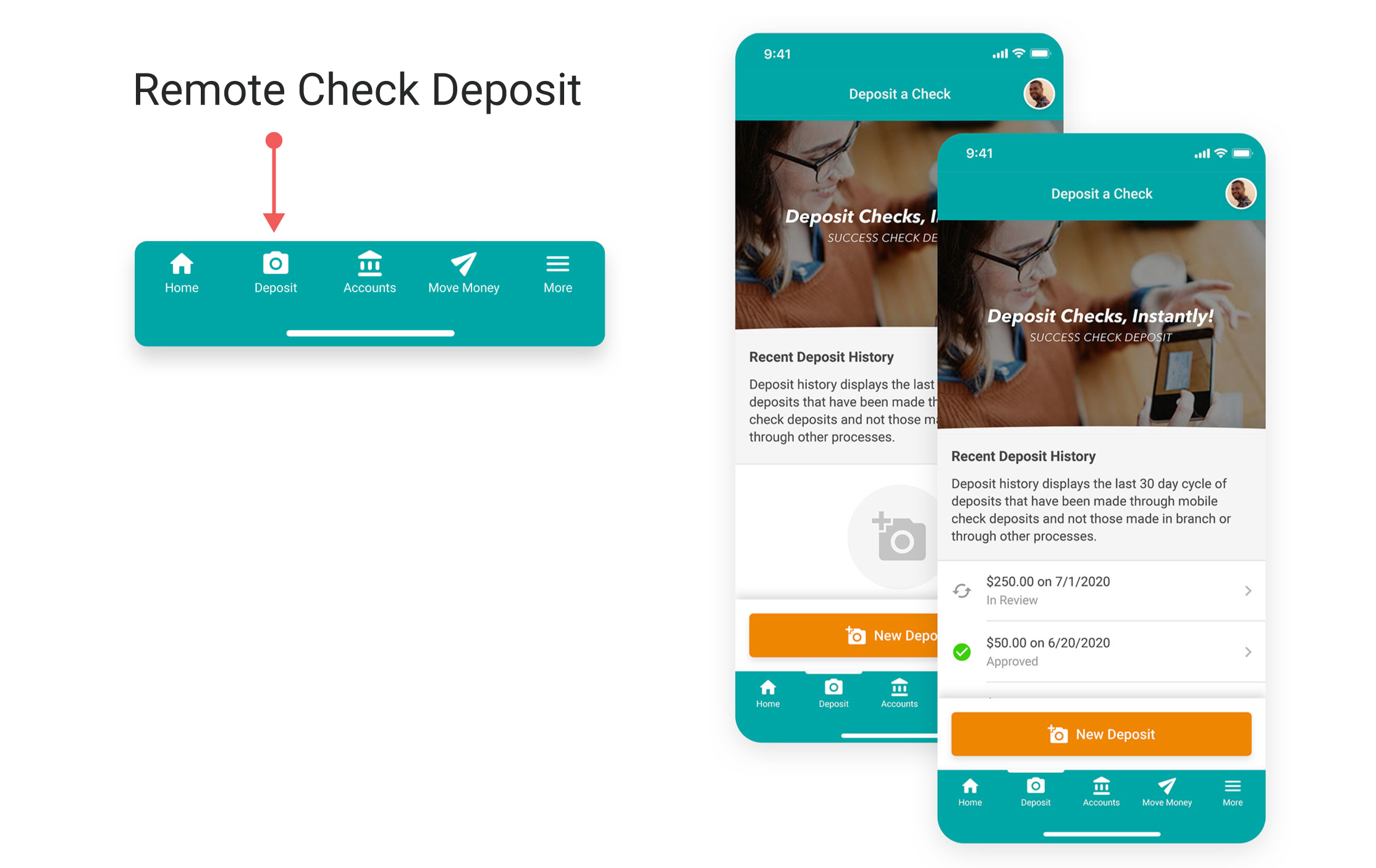 You can deposit any check, personal or business with an amount up to $2500. If your check is a business check attached to a larger sheet, it is best to detach the check from the rest of the sheet to get a clearer picture of the borders of the check.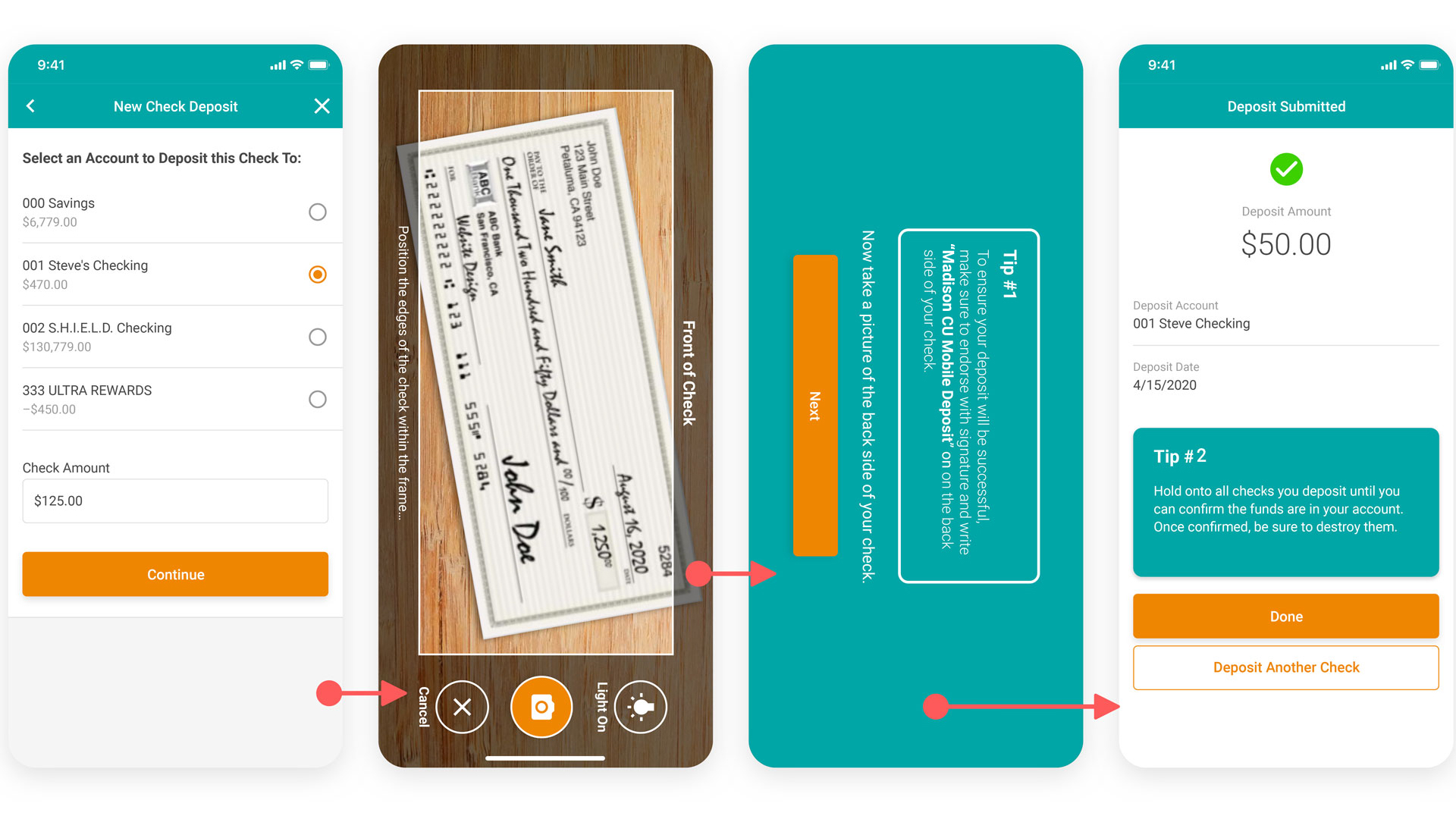 Deposits will be posted 4 times per day, Monday thru Friday with the last posting at 11pm. If the deposit requires additional review, and is accepted, the posting will occur within the next business day.
Note, there is a limit of $2500 per check and a maximum remote deposit amount of $5000 per month.
Keep the check for 30 days in case of review. Write Electronically Presented, Madison CU Deposit or VOID and the date you submitted it on the front of the check.
Debit Card Management – never worry about a lost or stolen card again
With debit card management you can temporarily turn your debit card on or off at the touch of a button. You can also set up alerts for and restrictions for debit card use.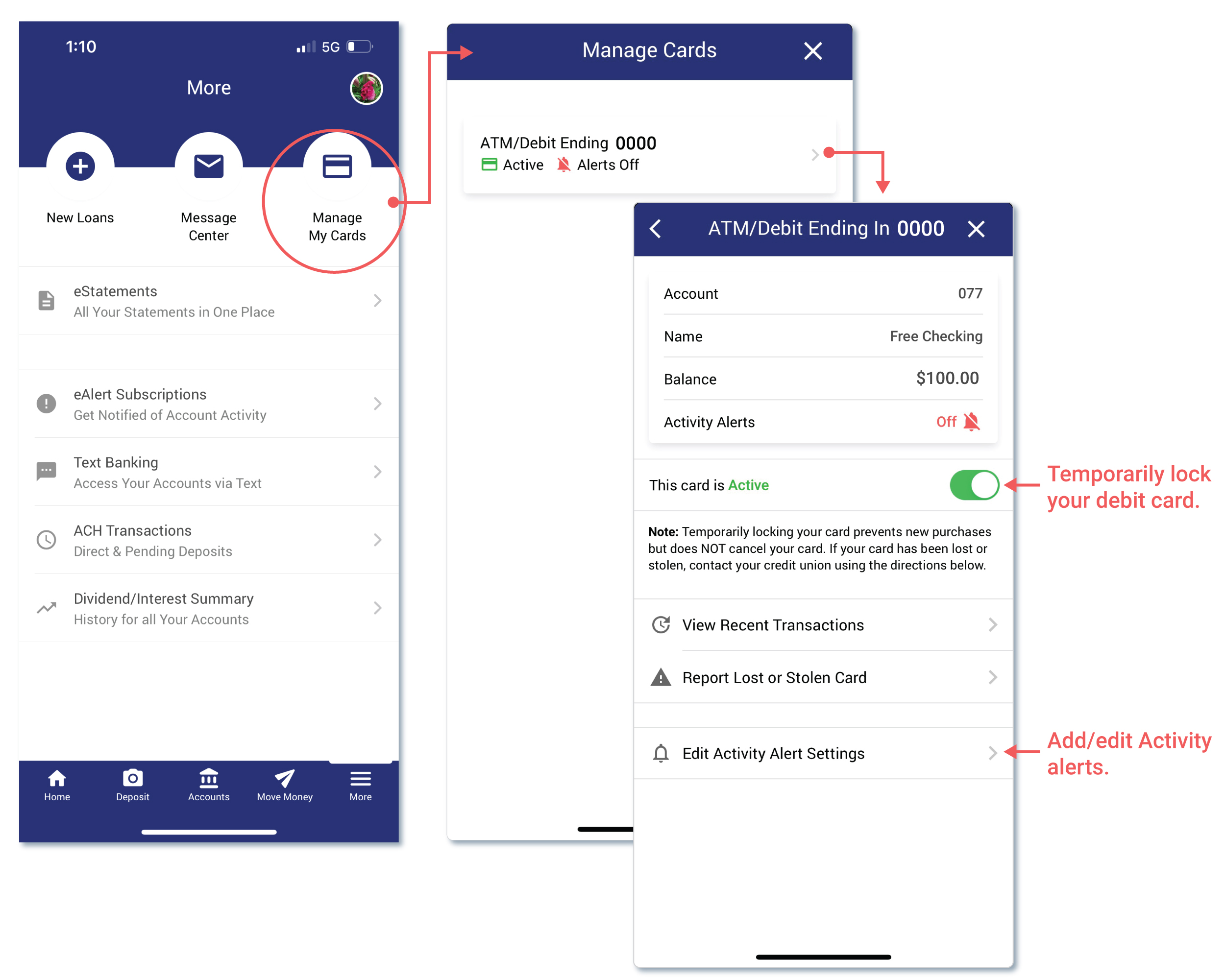 There are many features on both our mobile app and online banking designed to make accessing and managing your money easier than ever. If you have questions or would like a personal tutorial of any features or even the entire process please don't hesitate to call us at: 608-266-4750 or email us at: creditunion@madisoncu.com.