How to View Cleared Checks in 3 Easy Steps
You can easily see images of past cleared checks in online banking and the mobile app.
Images of cashed checks are saved in the system for 18 months. If you need a check older than that please contact us.
Step 1: Once logged into online banking, choose account details on your checking account.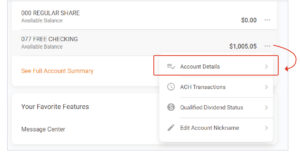 Step 2: You can search directly from this page by typing in the check number or view all cleared checks by clicking on 'Advanced'.

Step 3: If you don't see the check right away, click to 'Load More Transactions'. Only 20 transactions are loaded at a time so you may have to repeatedly load more.