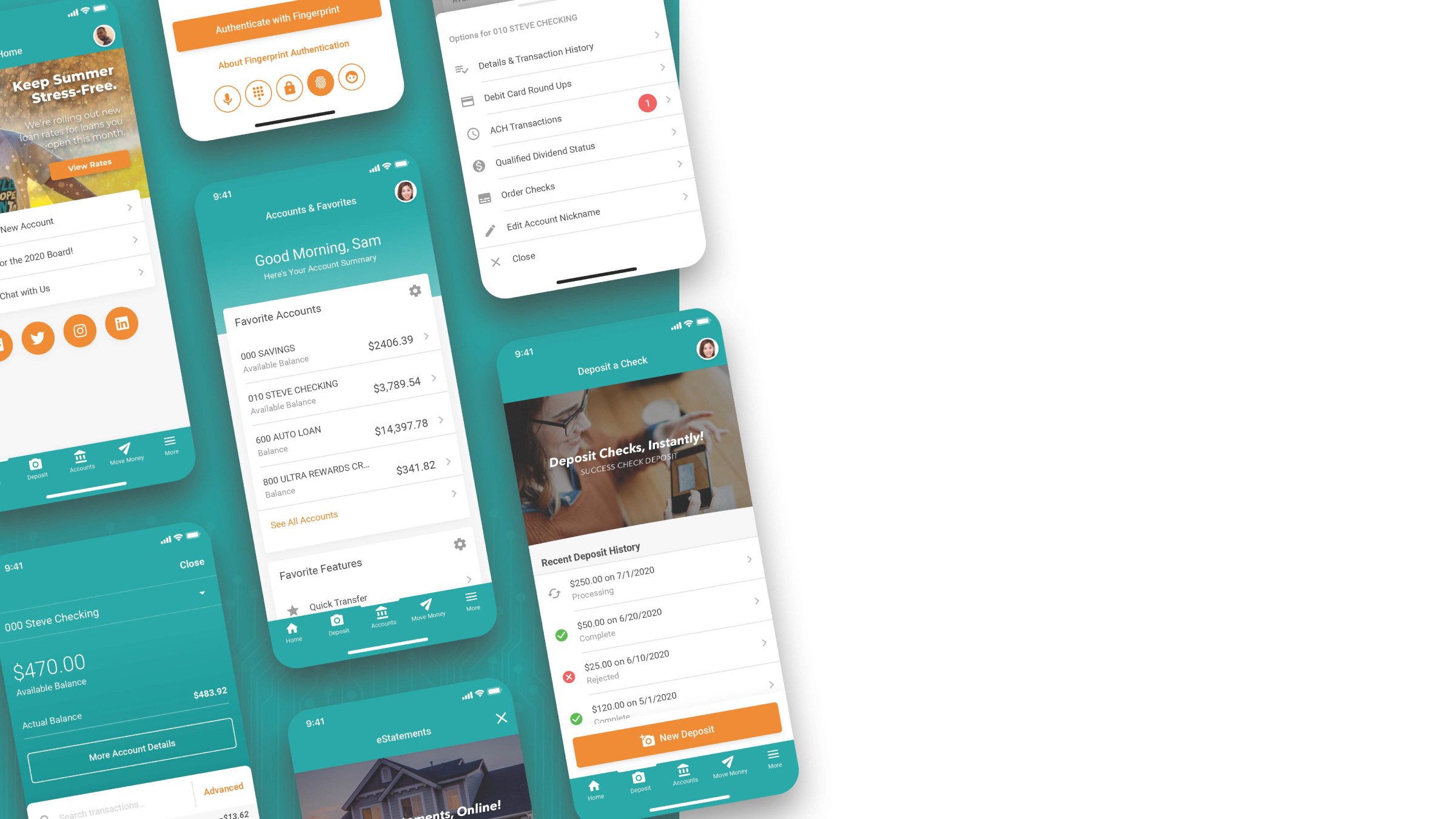 MobileApp-Brochure_Page_01_notext
Easily and safely manage your Madison Credit Union accounts, deposit checks remotely, set up account eAlerts, apply for loans, purchase Certificates and more!
With Mobile App 5.0, members can personalize their accounts, take advantage of a refreshed navigation, a new accounts dashboard, and much more
Available for tablets and smartphones that use iOS or Android
With Mobile App 5.0, members can personalize their accounts, take advantage of a refreshed navigation, a new accounts dashboard, and much more
To login to the app, click the Sign In button or you can click anywhere on the screen and you will be prompted to sign in.
Easily enroll in alternate authentication methods for signing in (Face ID, Fingerprint, or PIN). If this is your first time using the mobile app, the mobile app will suggest a method to you based on your phones capabilities. If you choose 'Enroll Now' you will be taken to all the methods and can choose the one that best fits your style.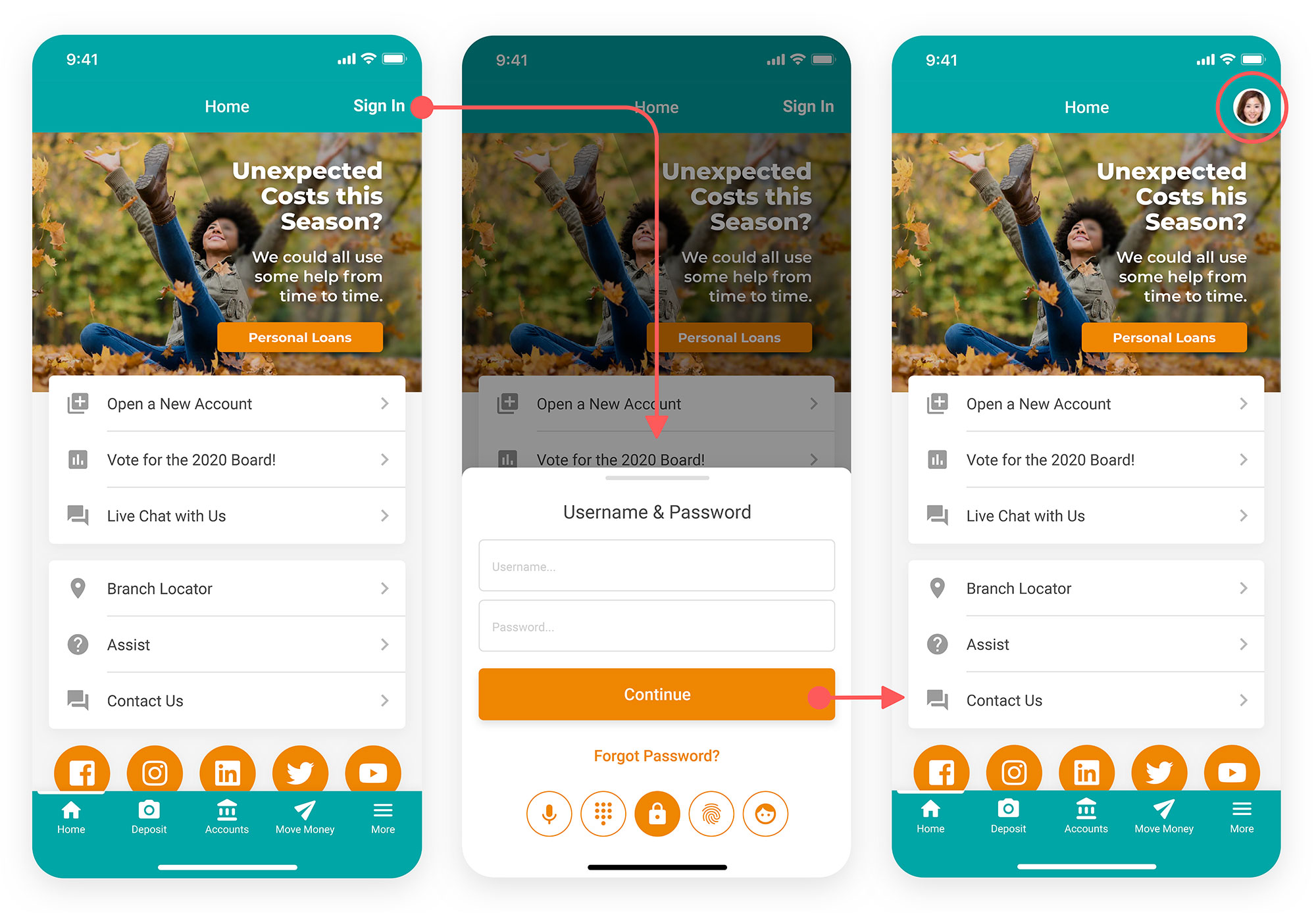 If want to change your authentication method, once logged in, you can click your photo at the top right to access your personal preferences. Here you can change your password or username and set up an alternative authentication method such as face ID, fingerprint, PIN or voice authentication.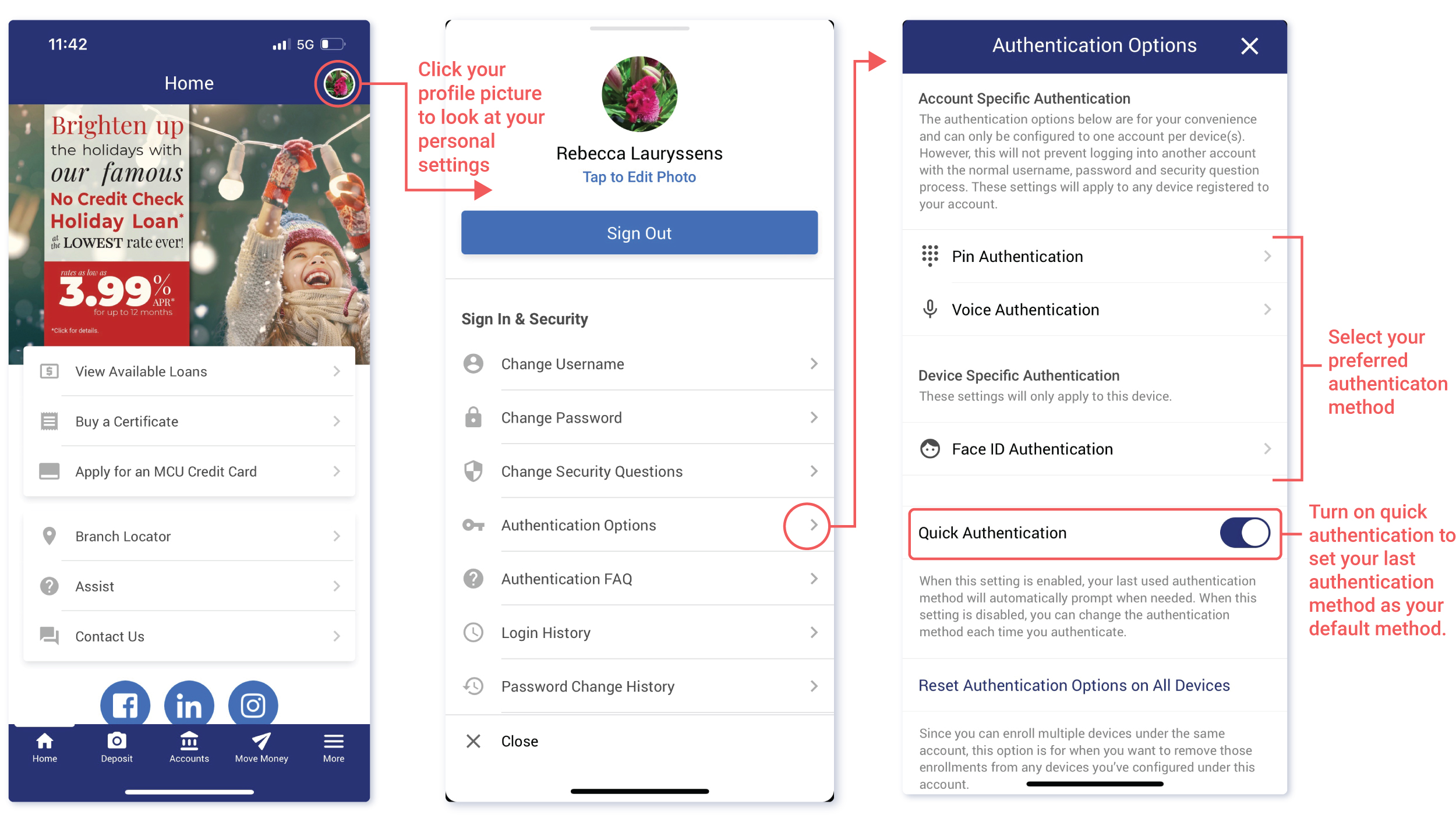 Here's a quick look at the main buttons to get you moving around the app.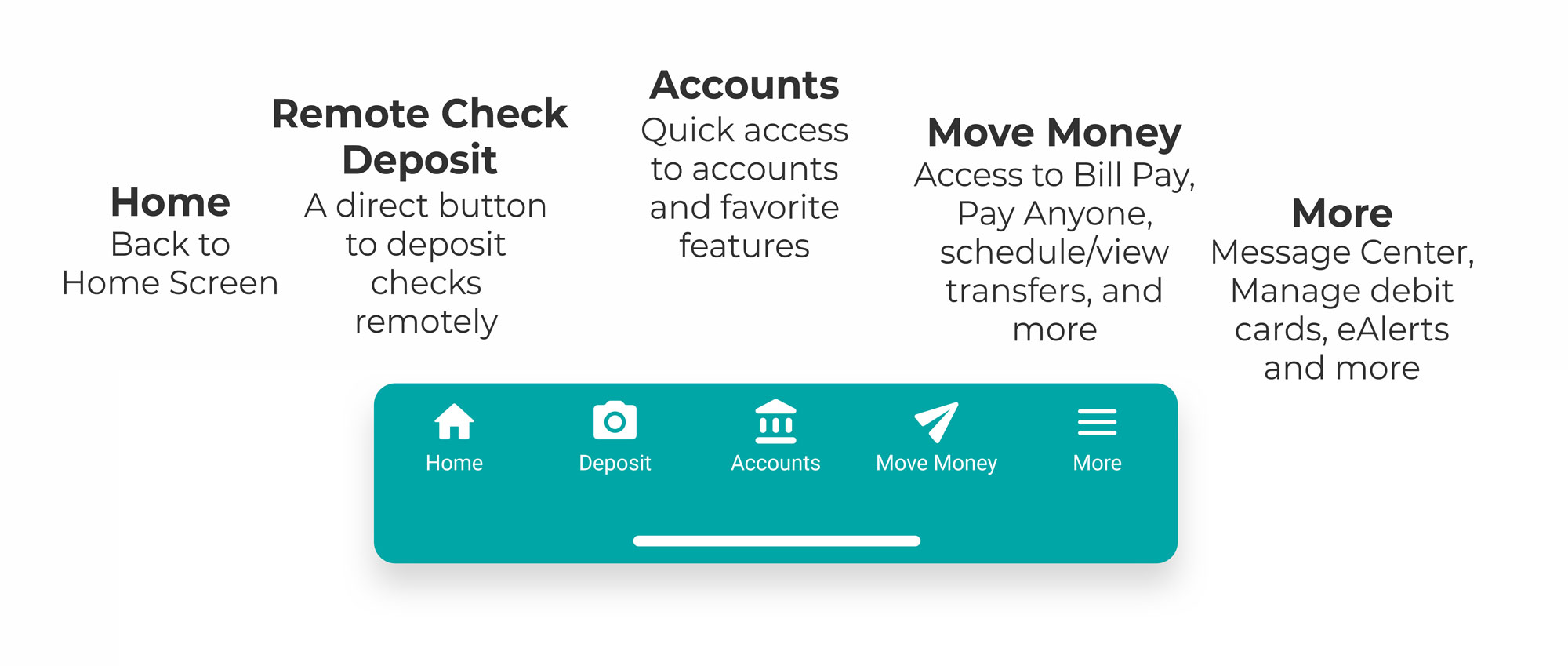 Favorite Accounts & Favorite Features
Personalize your mobile app with your favorite accounts and your favorite features.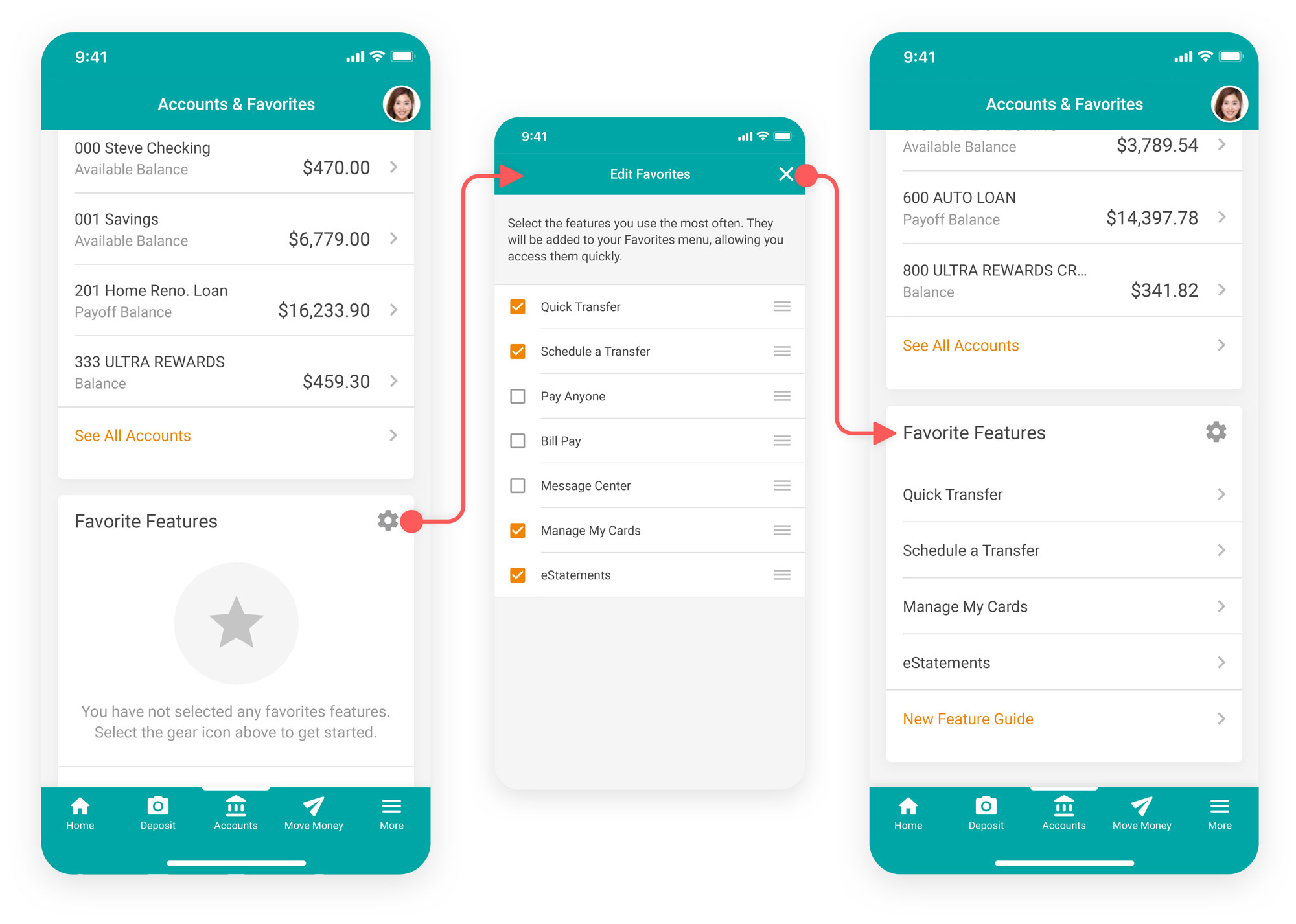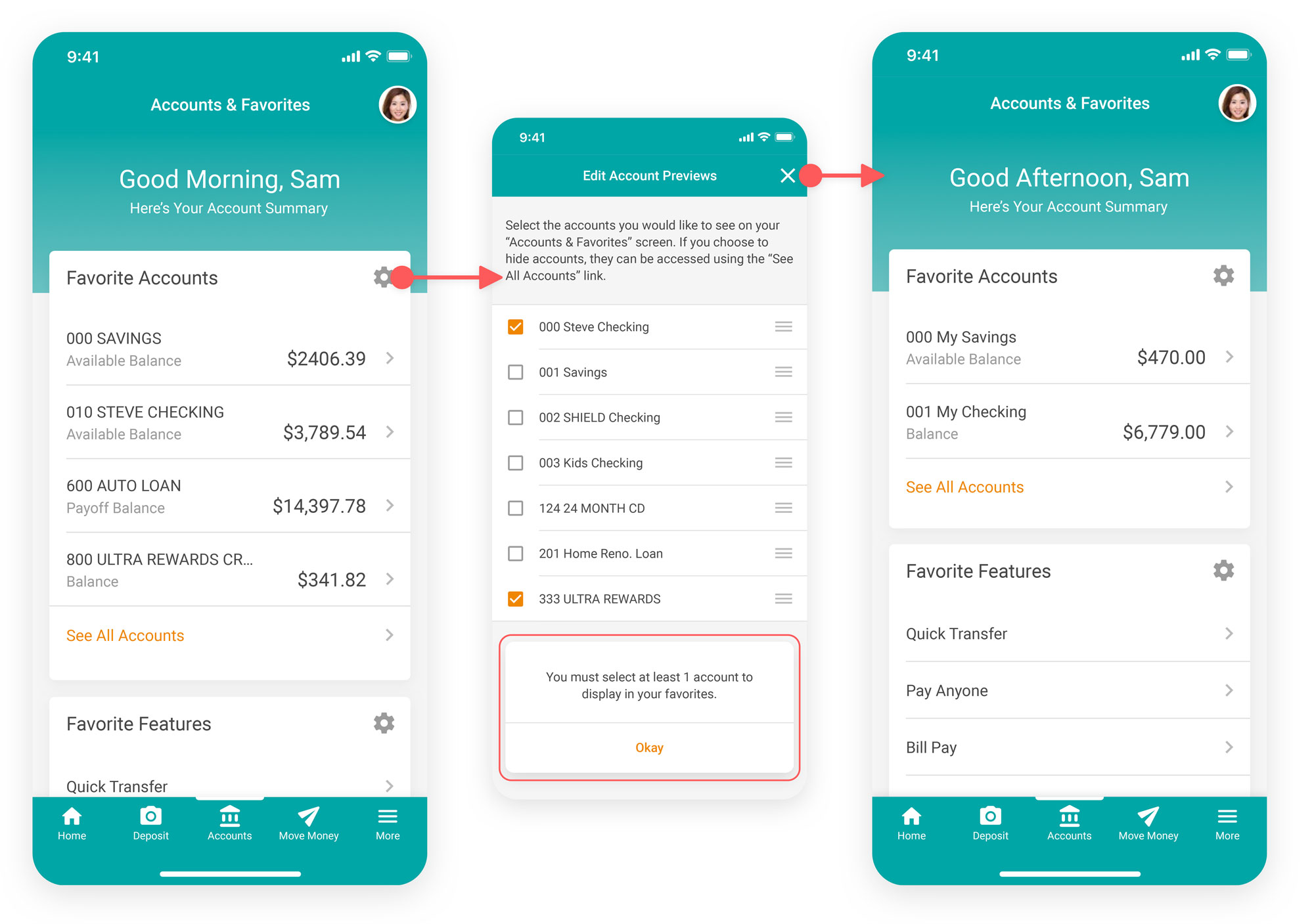 Jump to Another MCU Account
Access your other MCU accounts (such as a Youth Account or a spouse's account) by clicking the photo at the top right and then selecting the account.
Note: If you haven't logged into those extra accounts in a while, you will be prompted to do so.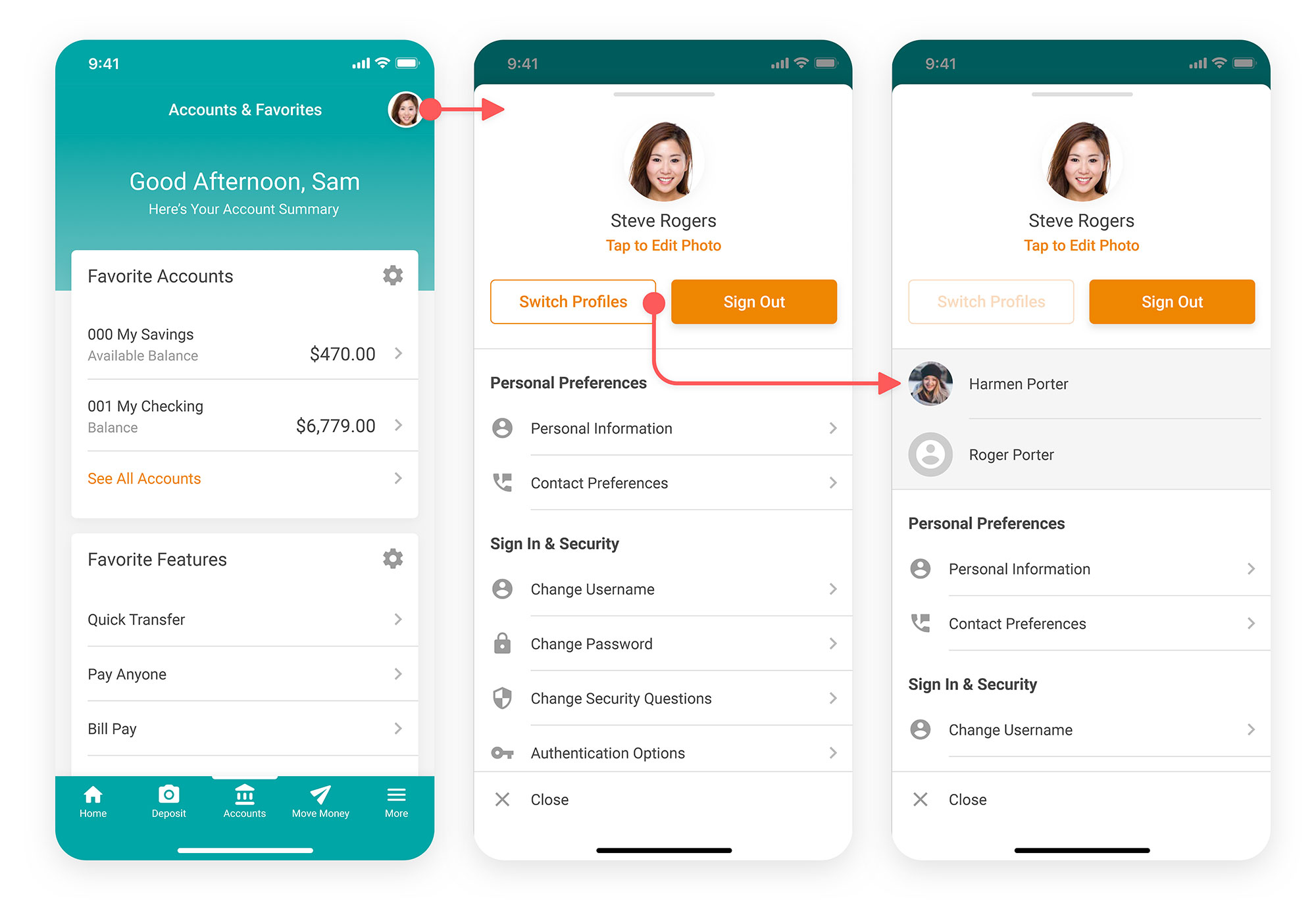 Depositing a check remotely just got easier. Now there is an easy access Deposit button to remotely deposit a check.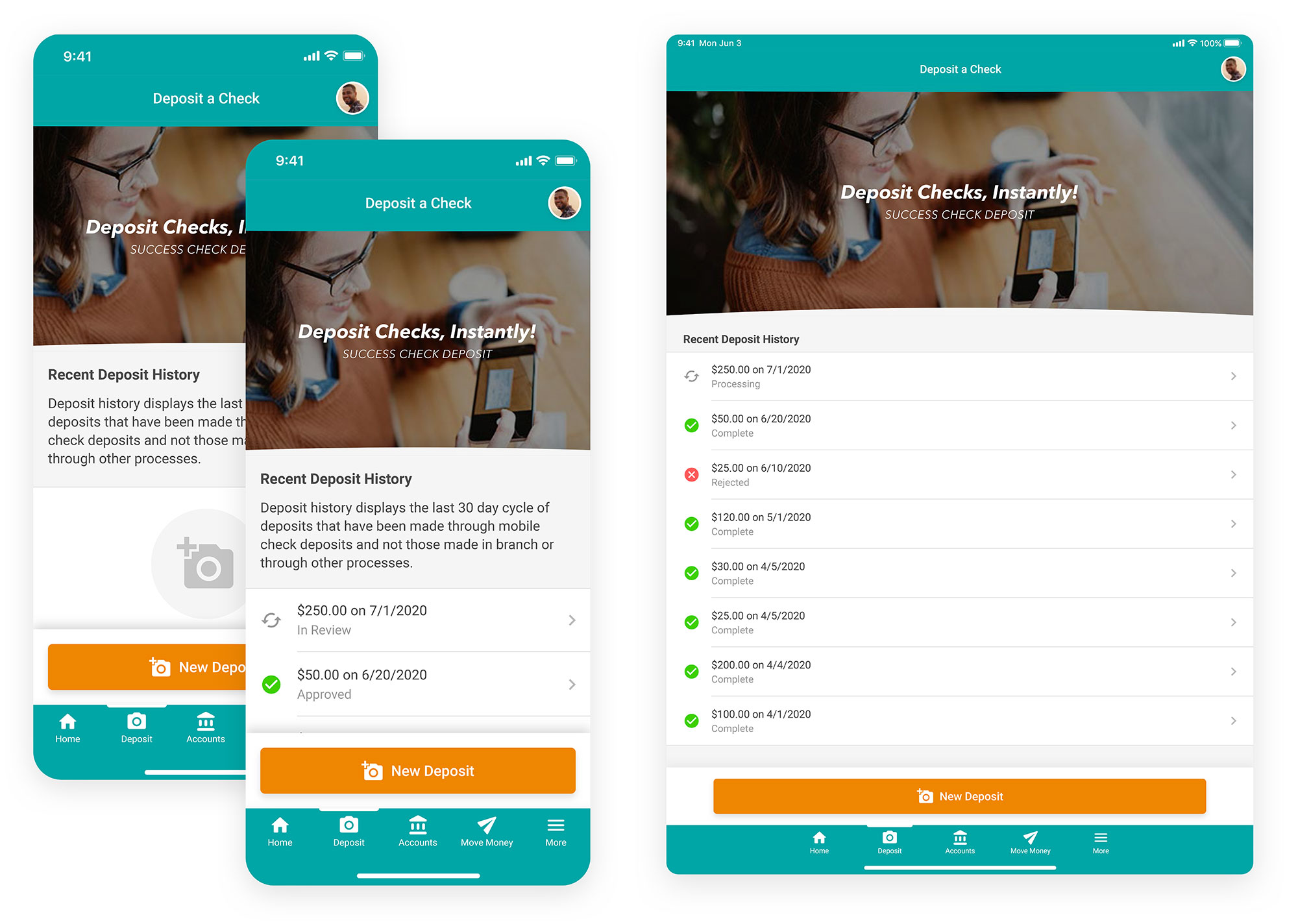 There are a number of prompts throughout the process to make sure you don't miss a step. You will have to type in the amount of the check and where it should be deposited, and then take photos of both the front and back of the check. Before taking the back photo you should remember to endorse the check and write "Remote Deposit Madison Credit Union" and the date.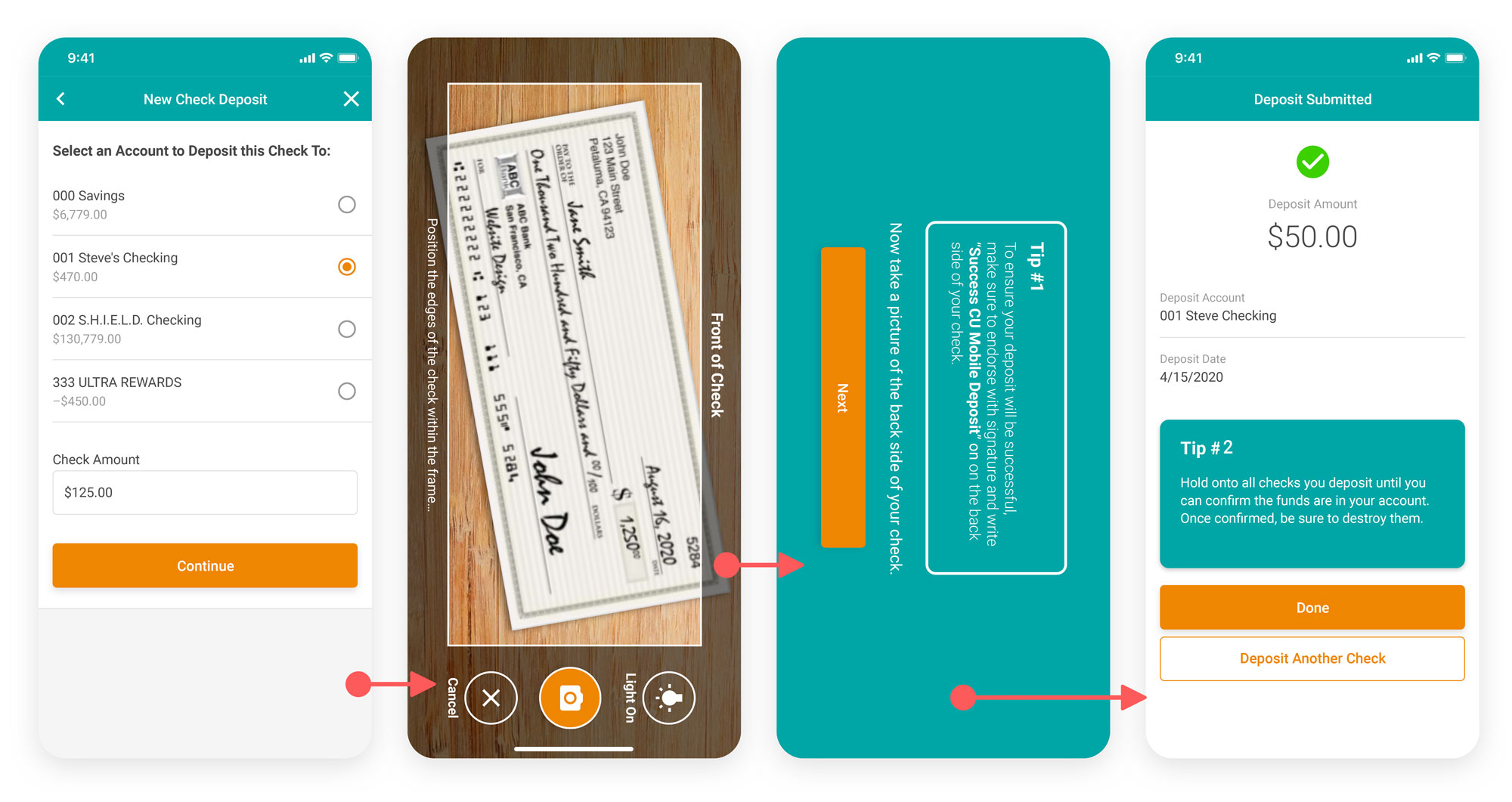 Things to keep in mind
Deposits will be posted 4 times per day, Monday thru Friday with the last posting at 11pm. If the deposit requires additional review, and is accepted, the posting will occur within the next business day.
Note, there is a limit of 6 checks per day with a maximum amount of $2500 per check and a maximum remote deposit amount $2500 per day and $5000 per month. 
Keep the check for 30 days in case of review. Write Electronically Presented or VOID and the date you submitted it on the front of the check. 

The Move Money button lets you transfer funds between accounts, pay your bills, set up automatic payments or Pay Anyone.
To learn more about how Pay Anyone works, click here a How-To Guide.
Note: the videos feature our previous mobile app, however, the process is the same.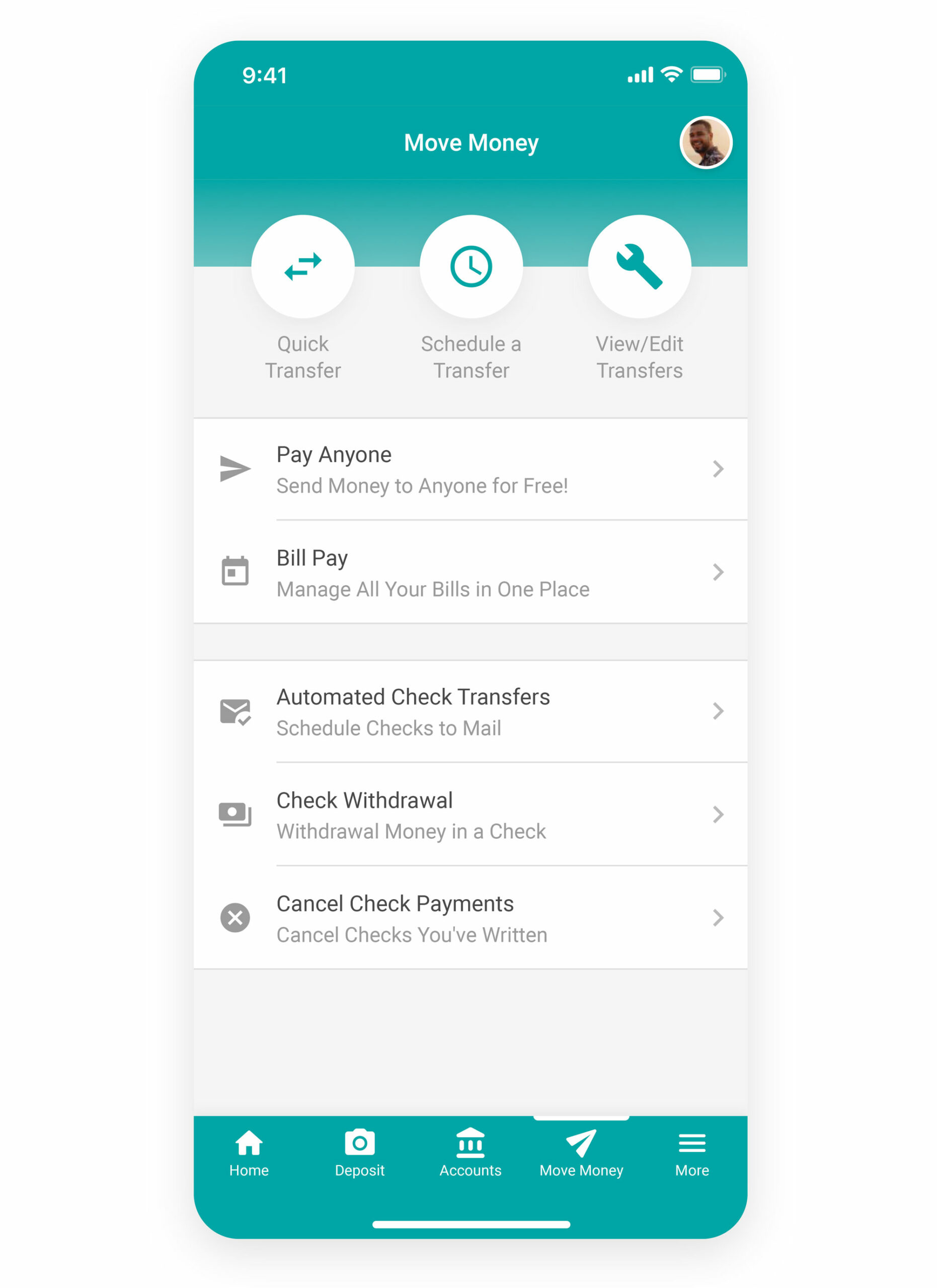 Here you can view your messages, eStatements, manage your debit cards (turn them on/off), set up and manage eAlerts and more.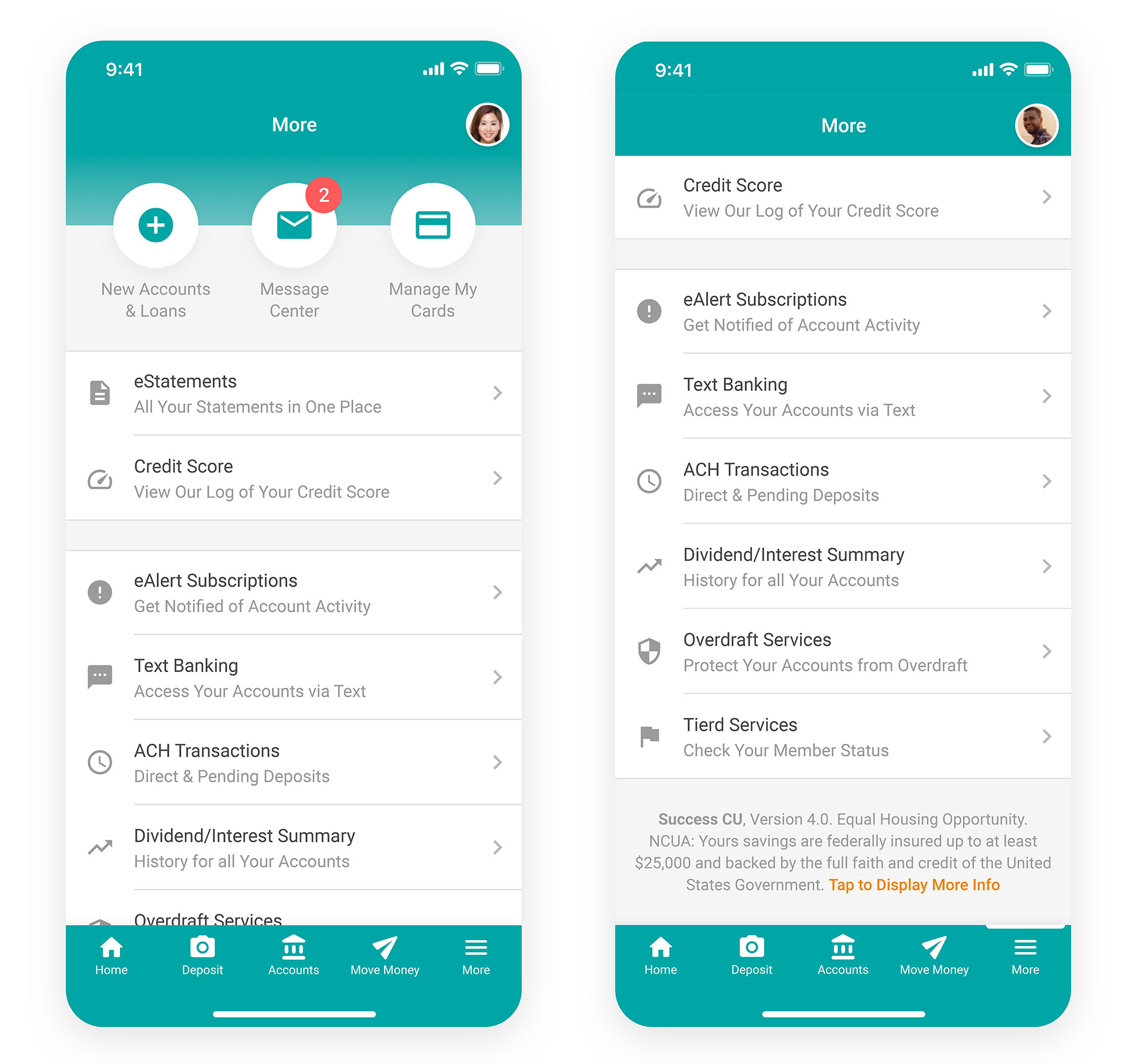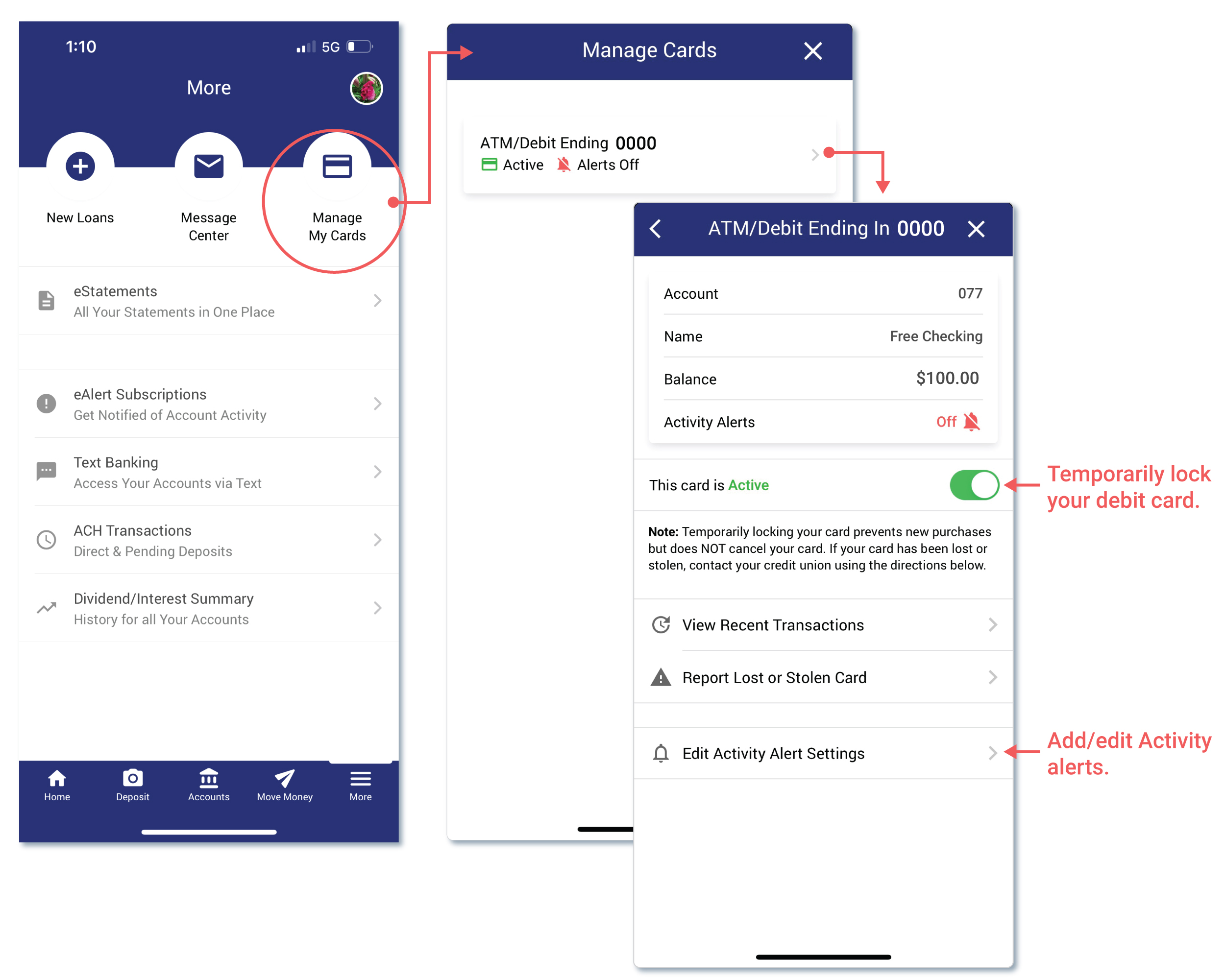 Debit Card Management:
Temporarily lock your debit card, report your card as lost or stolen, view recent debit card transactions, and manage alert settings. Your eAlert settings allow you to set a transaction limit or be notified of all transactions. You can also create alerts for a specific type of transaction such as online purchases or foreign transactions.
Here are quick easy steps to lock/unlock your debit card:
Step 1: Open mobile app
Step 2: Click the More button
Step 3: Choose Manage My Cards
Step 4: Select a card and choose an action you want, including temporarily locking or unlocking your debit card.