Money Tips: How to Save BIG on School Supplies
How to Save BIG on School Supplies
If you are a parent or guardian you already know that August means preparing for school. Making sure the kids are set with school supplies and school clothes, not to mention the extra curricular activities and wraparound care. 
In fact, back to school shopping is the second largest spend that families do each year. Families spend on average between $450-$1200 on back to school purchases. Here are some helpful tips to save big on school supplies.
Shop at home. Once you get that school supply list, shop at home before you head out to the stores. What supplies are left over from last year? What condition is last year's backpack and water bottle in? Check your house for binders that can be buffed up and look as good as new. Easy finds are pencils, erasures, pens, glue sticks, etc. 
Establish a budget. This is a pretty obvious one but it's worth mentioning. With rising fuel prices and inflation, families should expect to spend 27% more this year on back-to-school shopping. To help keep your finances in check it will be important to budget.
Watch for sales. This is another no-brainer. Print out that school supply list and shop around. Check online and in-store. Some places like Target offer special online pricing for certain items and if you order enough you also get free shipping. Walmart and Amazon are also great places for supplies, new clothes and backpacks. 
Enlist help from the kids. Set a budget and tell your child they get to keep any money left over. They'll be jumping with joy to use last year's backpack and pushing for the $1 pencil holder instead of the super fancy $20 one.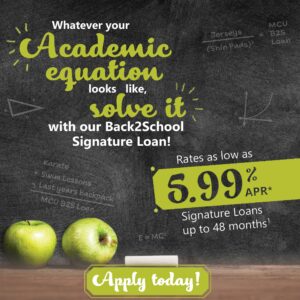 Save on clothes. It can get expensive to keep kids well dressed. What doesn't get covered in paint or has holes they outgrow. It's a never ending battle. So save money and headaches by buying used items or items on sale. Facebook marketplace, thrift stores, and older cousins/siblings are a great low cost way to stock up on clothes. Stores that tend to have good back-to-school clothes sales are: Kohl's, Walmart, Children's Place and Target. Carter's also offers great deals on their website. Don't pay full price when you don't have it.
Try not to worry. Back-to-school time means more money and a change in routine. With that comes a lot of stress. Trying to find the time to do the shopping and to get the best deals. Don't beat yourself up if you just bought crayons for 97 cents and then see them on sale the next week for 5 cents. Just do your best and it will be okay.
And remember, when you are doing all that spending, if you need money help, reach out to MCU. Putting all of those clothes and supplies on a high interest credit card can hurt your finances more than you realize. A low interest signature loan takes some of the pressure off. You can pay it off early with no penalties and it gives you some more flexibility on paying for those after school activities as you could get a discount for paying a year in advance. 
Good luck and may the sales be with you.