Help MCU Name Our Mascot!
Winning Name Announcement:
Thank you to everyone's creative mascot name suggestions. The MCU staff has voted and our hedgehog mascot's name is…..
Penny!
Congratulations to Jacqueline for submitting the winning name.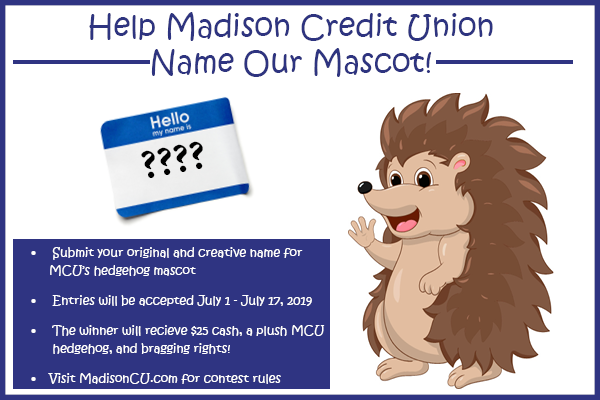 Name MCU's Hedgehog Contest Official Rules
1. Eligibility: No purchase is necessary to win. Making a purchase will not increase your chance of winning. This contest is open only to legal residents of the United States. Entrants must be 18 years of age or older to win. Void where prohibited. All federal, state and municipal laws and regulations apply.
This contest is sponsored by Madison Credit Union. Employees of Madison Credit Union and members of the Credit Union's Board of Directors and their immediate family members and/or those living in the same household are not eligible to enter the contest. Immediate family includes spouse, parents, siblings, children, stepparents, stepchildren, grandparents and grandchildren. This contest is subject to all federal, state and local laws.
2. Agreement to Rules: By participating, the Contestant ("You") agree to be fully unconditionally bound by these rules, and you represent and warrant that you meet the eligibility requirements. In addition, you agree to accept the decisions of Madison Credit Union as final and binding as it relates to the content of this contest.
3. Contest Period: Madison Credit Union's mascot naming contest begins July 1, 2019, and ends on July 17, 2019 at 5:00 PM Central Standard Time. By submitting an entry, each contestant agrees to the rules and states that he or she is 18 years old or older.
4. How to Enter: To enter, submit your suggested name for our mascot. If you are submitting a suggested name for someone less than 18 years of age, you should submit their suggestion on their behalf, using either your own Facebook account or your own email account as indicated below. 1 entry is allowed per person.
You may submit your suggested name for our mascot in one of the following ways:
• Facebook – reply to the 'Name Our Hedgehog' Facebook post on our page with your suggested name for our mascot (https://www.facebook.com/MadisonCreditUnion)
• Email – Don't have Facebook? You can also email creditunion@cityofmadison.com with your suggested name to enter
• Lobby – Stop by Madison Credit Union and submit your entry
By entering, you grant Madison Credit Union an exclusive license to use your suggested name in perpetuity in any medium, including edit, publish, distribute and republish it in any form.
Entries that are late, incomplete, unreadable, inaccurate, unintelligible or otherwise not in compliance with these Official Rules will not be considered. Sponsor is not responsible for lost, destroyed or misdirected entries.
5. Prize: $25 cash, a plush hedgehog and bragging rights!
6. Odds: The odds of winning depend on the number of eligible entries received.
7. Winner Selection and Notification: The winning mascot name will be selected based on originality, creativity and quality by the Madison Credit Union team. In the event the same mascot name suggestion is submitted multiple times and that name is selected as the winning name, a single winner will be randomly selected from all those who submitted entries with that same name suggestion. The winner will be notified on or before July 31, 2019. The prize must be claimed in person at Madison Credit Union, 949 E. Washington Ave., Madison, WI 53703. MCU will make reasonable efforts to notify the winner using the contact information provided with the entry. In the Sponsor's sole discretion, a selected winner may be required to forfeit the prize and an alternate winner selected in accordance with these Official Rules from among the remaining eligible entries for that prize if a selected winner (i) is unreachable, (ii) declines or cannot accept, receive or use the prize for any reason, or (iii) is found by the Sponsor to have failed to comply with these Official Rules.
8. Rights Granted by You: By entering, you understand and agree that Madison Credit Union, anyone acting on behalf of Madison Credit Union, and Madison Credit Union's licensees, successors, and assigns, shall have the right, where permitted by law, to print, publish, broadcast, distribute, and use in any media now known or hereafter developed, in perpetuity and throughout the world, without limitation, your entry, name, portrait, picture, voice, likeness, image, statements about the contest, and biographical information for news, publicity, information, trade, advertising, public relations, and promotional purposes without any further compensation, notice, review, or consent.
9. Limitation of Liability: By entering, you agree to release and hold harmless Madison Credit Union and its subsidiaries, affiliates, advertising and promotion agencies, partners, representatives, agents, successors, assigns, employees, officers, and directors from any liability, illness, injury, death, loss, litigation, claim, or damage that may occur, directly or indirectly, whether caused by negligence or not, from: (i) such entrant's participation in the contest and/or his/her acceptance, possession, use, or misuse of any prize or any portion thereof; (ii) technical failures of any kind, including but not limited to the malfunction of any computer, cable, network, hardware, or software, or other mechanical equipment; (iii) the unavailability or inaccessibility of any transmissions, telephone, or Internet service; (iv) unauthorized human intervention in any part of the entry process or the contest; (v) electronic or human error in the administration of the contest or the processing of entries.
10. Winner Information: To request the name of the prize winner, send a stamped, self-addressed envelope along with a written request by August 15, 2019 to: Madison Credit Union, 949 E. Washington Ave., Madison, WI 53703.
11. Sponsor: The Sponsor of the contest is Madison Credit Union, 949 E Washington Ave, Madison, WI 53703
12. Facebook: The contest hosted by Madison Credit Union is in no way sponsored, endorsed, administered by, or associated with Facebook.