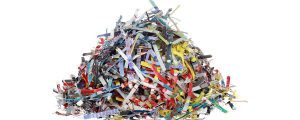 Madison Credit Union will be hosting it's third annual shred event on May 4th, 2019 from 8:00 a.m. until 10:00 a.m. in the parking lot behind the office at 949 E. Washington Avenue. Last year we shredded 6,260 pounds of paper. We also collected over $300 and 78 pounds of food which was donated to River Food Pantry. We hope to exceed those numbers this year!
The shred event, which is FREE and open to the public, is a great opportunity to safely and securely dispose of paperwork that contains personal information. Pellitteri's Data Destruction Division will be on hand to immediately shred your old documents. Each person is allowed to bring up to three boxes of paper.
Rubber bands, staples, and paperclips are OK
No plastic or plastic bags
No three-ring binders, hanging file folders, CDs, floppy disks, credit cards, etc.
Once again we will be accepting non-perishable food items as well as cash which will be donated to the River Food Pantry. We hope to see you on May 4th!