No Credit Check Holiday Loan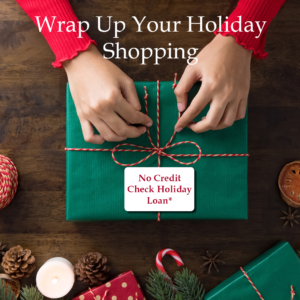 Let Madison Credit Union help wrap up your holiday shopping this season! Borrow up to $1,200 with a No Credit Check Holiday Loan*. Contact a lending representative for more details or apply online.
No Credit Check Holiday Loan Terms & Conditions
*APR is annual percentage rate. Rates subject to change. Must be in good standing with the credit union. 1 year of membership required. No 30-day delinquency or negative shares with Madison Credit Union in the past 12 months. Must verify employment with current paystub at application. Maximum term limit is 12 months. $500 minimum loan and $1,200 maximum loan required. Current MCU loans not available for refinancing with this promotion. No cash payments. Automated recurring payments required. Offer starts 11/1/2019 and ends 12/31/2019.